With Backgammon Players-Part 5-Zdenek Zizka
Mizban Host
Zdenek Zizka is currently one of the most promising players in the world. He is only 17 years old and comes from a very nice backgammon-loving Czech family. His mother, Eva is a very solid player and has taught him the game only a few years ago. He has been systematically working on his game, besides school, with the help and support of his mother and the other Czech players such as his mentor, Jan (Honza) Cerny, and Pavel Zaoral. Those are the main and most important players from Prague on the international backgammon scene.
The members of the Czech group are all extremely nice people, over the board and beyond. They have been regulars in the monthly and bimonthly tournaments in Munich. They drive on Saturdays four hours from Prague to be on time (never late) at noon for the start of the tournament which usually finishes around 10 p.m., to take the car back and hit the road home for another four hours. That´s dedication!
Zdenek has also been playing in international competitions such as Istanbul, Sibenik (Croatia), Berlin and Munich and Vienna and has achieved great performances. He was part of the successful World Team at the Nordic Open 2016 and contributed to their victory. Even the great Falafel is amazed by his talent. He is the reigning Munich Master 2015 and the leading player in the current point race of 2016. He has been awarded the title GrandMaster Class III by the BMAB recently. I am quite surprised about his absence in the current Giants List of Backgammon and I am confident that he will very soon figure among the very best in the world.
The backgammon genes are well-implemented within the Zizka family; after the mother Eva, and the oldest son Zdenek, his younger brother Martin has also taken up the game and plays very well. Let´s see if even their dog can become a champ soon …
I had the honor to play as Zdenek's doubles partner recently in Munich and, even though we lost, we performed a wonderful PR 1.9. Zdenek was one of the nicest, funniest, and most pleasant partners I ever had &mcash; to be repeated. Besides his backgammon skills, Zdenek is a wonderful, funny, a bit shy and amazing person and I am proud and happy to call him a friend. Watch out for this rising star to conquer the backgammon world soon.
Tell us about your studies in school.
I am concentrating on mathematics in high school, now going to 3rd of 4th grade.
I am not exactly sure what I want to do, but I know for sure it is working with money, statistics, and probability. Backgammon is not my life, but my life is like backgammon — full of luck, decisions, studying probability and statistics. If there is a way I can make a career teaching and playing backgammon some day, that would be great, but I am not relying solely on that route at all.
I know that you (Phil) are living that dream, but you worked in real estate for 40 years before you retired and then have made a career teaching and playing.
Tell us about your backgammon history.
I started to play backgammon when I was five. I was bored with simple games where the goal was just rolling the dice and moving one figure without thinking. When I was young, my dad was working in a restaurant where they had a backgammon machine, so he knew the rules and he showed me and my mum how to play. He taught us the basic rules and strategy and we enjoyed the game very much, but we knew nothing about the doubling cube.
During our vacations throughout July and August, we would play 10 to 30 games a day on a small wooden board. It was our favorite family game and the experience was invaluable in helping me understand checker strategy without the cube. As you know, even with the cube, knowing how to play at DMP is quite important.
Then, because my mum and I were really interested, we searched the internet and found a group of people in Prague that played live, and we joined the group. We attended a local tournament and there we were introduced to a lot of wonderful people and another good friend: the doubling cube!
We are still very much involved with these friends and play regularly in local tournaments, leagues, and low-stakes chouettes (one euro a point). At those stakes the money is more about keeping score than it is about gambling, but what's a money game or chouette if there are no stakes?
At this time I also met Honza Cerny who became my backgammon dad (mentor). When I was 13, Honza was teaching me how to think over the board. We were analyzing every game and every move and discussing them fully. I am very happy to see that Honza's great teaching skills have been recognized and he is now a part of Phil's (and Perry's) Backgammon Learning Center, along with so many of the other top teachers in the world including another of my mentor's and good friend, Mochy.
The only book I have ever read was Backgammon Boot Camp, by Walter Trice. But I don't think it really helped me so much.
I played every day tens of games on GridGammon and was teaching myself by looking and understanding positions after importing the matches into eXtreme Gammon (XG). I also make some notes from my matches which helps me to understand.
I believe that mostly what I need to continue improving is to play, study my mistakes, and make sure I understand those mistakes fully. Eventually you make just about every kind of mistake you can make, and as long as you don't make it twice, you will play well. Of course I have received much help in understanding the game from Honza, and watching and listening to other top players. And I have attended Mochy's school in Japan and will do so again in 2016.
Do you play as well live as you do when you play online?
I think I play online worse than live, because online I would feel bad when I should think one minute about one position. When I play live, we generally use a clock so I do not feel bad if I decide to take more time for a difficult decision.
So I think the main reason I don't play as well online is that I believe it is not courteous to play slowly and I feel rushed. When I look at my mistakes on XG later, I see many that I probably would not have made if I had taken more time to think about it.
Tell us more about your live play.
In Czech, every second week we have a league where we play five 7-point matches. On the other weeks, we have chouette, speedgammon, etc. We don't exactly have ranking in Czech for wins, but if we did, I would not be doing so well. Maybe I would be third or fourth of 15 players.
For PR ranking, we compare from the Czech Championship, where we play 13-point matches on 10 losses. This year I hold first place in this competition, followed in second place by Honza Cerný.
I periodically go to monthly Munich tournaments in Germany. I am not ranked in Czech, but in Germany I have been number one for more than three months (as of July 1, 2016).
Tell us about your experience in major tournaments.
My first international tournament was in November 2014, the 2nd Merit Open in Cyprus. Actually it was a gift for my birthday. I played in the Intermediate Division. (In 2014 my PR was about 6 to 8.) This was a major turning point for me — this is the point where I really decided to take the game seriously.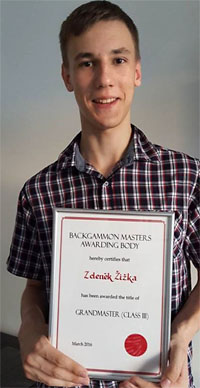 I was completely blown away by the tournament experience: amazing people who were fun and very kind, and I was surrounded by true genius everywhere I looked. The location was so beautiful. I had no idea something this wonderful and exciting existed and I want to do everything I could to continue going to tournaments like this around the world. But I know that most tournaments are not in resorts as beautiful as this one in Cyprus.
But there was a wonderful bonus: I had some great dice and won the Intermediate Division, and that gave me the money to allow me to participate in more tournaments around the world. Since then I have been to about 10 international tournaments and I began to become friends with many famous and top players and tournament directors, and they all made me and my mum feel very welcome wherever we went.
My mum usually goes with me because she also plays a nice game, around 6 PR, and we have a lot of fun traveling together.
One day my friends and I started going to monthly tournaments in Munich, Germany, organized by Chiva. This was another great experience for me, because, as you probably know, Chiva is one of the best tournament directors in the world. He has become a very good friend and has been very supportive and helped encourage me greatly.
I highly recommend any tournament Chiva runs as there is always a friendly atmosphere and lots of fun and great backgammon competition. Phil, I know you are close friends with Chiva as well, and you ran tournaments for and with him in the U.S., so you know what I'm talking about. Chiva told me that he wanted to see the U.S. start a Backgammon Federation and he came to you to get it started, and it was obviously quite successful.
What do you think of your backgammon experience thus far?
I think that I am getting as much experience possible for someone my age still in school, but obviously the biggest problem for me is to play under pressure. I play emotionally, and sometimes I make mistakes I normally would not do only because I am scared. I am pretty sure that when I simply have more experience playing under pressure I will improve and not get so excited or scared and be able to concentrate more on just making the right moves and cube decisions.
What are your tournament plans in the near future?
I am really looking forward to the next tournaments I am going to. I am going to U25 Summer Camp by Mochy in August, 2016, and then we move on to Sapporo to that tournament. This will be an experience that I have never dreamed — visiting Japan, meeting people there, learning something new. I know you go to Japan every year and you have said that the tournament, the people, and the country are amongst your favorites, so it must be great.
Then I plan to go to Sibenik in Croatia. Beautiful city, sea, family tournament atmosphere. At the beginning of November, the 4th Merit Open, and at end of November, I am planning to participate in a tournament in Prague, the city where I live. There will be the final of the German Master Series by Chiva.
Next year I would like to go to the World Championship in Monte Carlo. I hope to attend your and Mochy's Boot Camp the day before the Merit Open.
I understand you have a club or group at school. Please tell us about it.
Well, it is not really a club. I would say a group of 5 to 10 people who like to play. I gave a presentation for them and we are all excited about the International Collegiate Backgammon Championships and hope we get a chance to compete as a team as well as individuals. They look to me as their leader and mentor because of my experience and playing skills and I give them advice. Most play against XG Mobile and practice, and I think they will all be very good if they continue.
With so little reading, I am amazed that you have become such a terrific player. How have you learned things like Woolsey's law, market-loser theory, take-point theory, and other concepts?
Of course I know some take points and I can count some things from knowing winning chances in different scores. But I think it is not really that important because why should I know that the take point is exactly 15.9% when you never know (expect in races, where you can count your percentage by Keith count) your winning chances exactly.
Some take points I have to know, such as when the score is 4–3 to 7 and my opponent is redoubling me on 4. Then the take point is 40%. Why? Because if I drop, it will be 4–4 to 7 and I will have 40%. But I think that if I know percentage from the match equity table in XG, I can mathematically count some important things that I want to know.
So obviously you rely a lot on XG for most of what you have learned.
I have had eXtreme Gammon since 2013, and it truly is a great learning tool. I congratulate Xavier and you for developing this wonderful machine and marketing it. I think most of the top players in the world would not be anywhere near as good without XG.
I can see my own progress very well using the Profile tab in the program. I have there more than 2000 matches from GridGammon, with an overall PR of 4.05. My PR between games 1500 to 2500 is 6 and between games 1 to 100 it is 3.8.
In one way eXtreme Gammon is giving me just statistics and in second way is giving me numbers I can use to improve. I use Woolsey's Law; I use some important points like race, position, and gammonish position. Much I do by instinct and feel. When my instincts are wrong, XG hits me over the head with a big red number, and I go back and study to correct my thinking.
How many hours a week to you spend playing, practicing, and studying backgammon?
Well, that's a good question. Because of school, it's very different. Sometimes nothing, sometimes 12 hours. This year especially, I am putting in more time because of the event on Backgammon Ace, where I would like to win a yearly competition and board from Geoffrey Parker. I don't just play, I work hard to study my mistakes and understand the logic so I don't make those same mistakes again.
What is the weakest part of your game and what are you doing to solve it?
My weakest part of the game is when I am in backgame, but not when my opponent is in backgame. I think I will just have to put in a lot more time playing backgames against XG and studying my moves and trying to understand why XG is telling me to do this instead of that.
Do you change your strategy much when playing against humans as opposed to playing against the computer?
Yes I change it a lot. I don't play against XG, so let's compare Mochy and humans. When I play against humans, I play what I think could be better to my winning chances. Against Mochy or better players than me, I just try to always make the best plays for PR.
You have competed in the BMAB (Backgammon Masters). What is your rating and your plans there?
My BMAB PR is 3.84 and, yes, I intend to compete in more tournaments. In July we are going to Belgium for BMAB.
What other games or sports or activities do you enjoy? Is there anything else you are really good at?
I played basketball for 7 years, but I finished this year because of school.
I also like betting (but not for real money). There is a new website by Tipsport, where I can bet imaginary points and win some real things and money. There are many competitions and one of them I almost won. I had two bets with a course about 200, where I had more than 30 matches. But made a couple of bad bets on an Israeli basketball game and lost those. That cost me first place and I ended up tied for 30th.
What are your long-term goals for backgammon?
My goal is for sure to be the best player in the world someday, and I am doing all I can to make that dream come true. I am trying to start doing some of my own lectures and I would like to use them in future as a backgammon teacher.
My goal is to be known as friendly player who loves backgammon and who plays great. I guess you can say I want to be just like Mochy and Michy. They are both great players and great teachers and friendly and gentlemen all the time. You were smart to include them in the Backgammon Learning Center.
Are there any rules of the game or tournament play that you would like to see changed?
I would leave the game as it is now. Every small change can absolutely change the goal and the role of luck in the game, and that's what I love. Even the best player can be defeated by a novice with a small percentage. Incertitude, atmosphere, beautiful boards, cups, and dice are things that are making the game so comfortable and nice for all.
About tournament rules. I almost never make illegal moves and I played 10 years with the fact that an illegal move is a mistake, so even though I like to be a gentleman, I think we should allow illegal moves and make people responsible for their mistakes. In my opinion backgammon is the cruelest game in the world and this is part of the game.
What do you think needs to be done to grow the game and bring more children playing the game?
More advertising and marketing. More promoters and teachers like you and Mochy who go around to schools to show children how to play and from clubs. They don't play the game because they don't know about it.
I think that the international backgammon collegiate tournament is the best way (hope it will be more advertised by January) to grow backgammon. Take me for example. If my Dad hadn't been working 20 years ago in a restaurant that happened to have a backgammon machine, I would probably not be playing backgammon today. How lucky I was that happened!
Do you have a favorite quote or joke?
Yes, the quote I like is: "Sometimes it´s the smallest decisions that can change your life forever," by Keri Russell. Even the smallest decision can affect your win or loss in backgammon. One roll of the dice affects the next rolling of the dice. One play affects another play because it's another position.
Do you have any heroes or people in backgammon you look up to?
I have a lot of respect for players who can play at the highest levels and still control their emotions when losing. I don't like loud people and people who complain all the time. It is unpleasant and ruins the game and the atmosphere. Everyone gets the same amount of bad dice and it is not nice to complain when it happens to you.
The good and bad dice are a big part of the game that makes it fun and interesting. If you can't handle bad luck then backgammon is not the game you should be playing.
Why do you think you have become such a top player, and why do you think you might be the best player in the game someday?
I have had terrific support from my family and friends. My backgammon dad, Honza Cerny, has helped me every step of the way. I am very good at math, and I am not afraid to work hard to improve. I have learned how to use XG well and anyone who can learn to play close to as good as XG will be a top player.
Now here are some final thoughts of my own. Everything Zdenek says about the way he has studied is exactly in line with everything I have read and teach about deliberate practice. People who excel in virtually any game or sport do so not only because they have some natural talent and skills, but much more so because they have what the author of the book, Grit (Angelica Duckworth) describes as, well, grit! They have the ability and desire to stick with something until they master it, piece by piece, and detail by detail. According to Duckworth, talent is half as important as an indicator of success as Grit.
I am also impressed with Zdenek about his attitude about luck and being a gentleman and not complaining when he is losing. For a young man to internalize these high personal standards is quite unusual, and I am sure it is because he is a very fine young man, but also because he has been given great examples from his parents, his mentors, and his heroes such as Mochy and Michy and Honza. I look forward to spending time with Zdenek in person this year in Cyprus and in Tokyo. As a teacher, I have much to learn from this fine young man.
Interviewed by: Phil Simborg